The government's scientific advisers said work must be done now to ensure "rapid deployment" of Covid measures as they warn there should "no complacency" around the risk of a new variant.
Details of a SAGE meeting last Thursday reveal they called on the C-19 Task Force to get ready to bring back restrictions if needed to deal with the continued increase in new infections.
Ministers have rejected calls to move to their "Plan B" to deal with coronavirus this winter, but their advisers suggest they should be looking at bringing in a range of light touch measures earlier rather than later to avoid having to bring in tougher ones down the line.
SAGE said the "reintroduction of working from home guidance is likely to have the greatest individual impact on transmission", but added they "are likely to be most effective when used in combination".
However the group said the scenarios modelled so far "suggest COVID-19 hospital admissions above the level seen in January 2021 are increasingly unlikely", although there are "uncertainties around behavior change and waning immunity".
The document from the meeting on 14 October says: "Modelling suggests that the stringency of measures required to control transmission of a growing epidemic is increased by a faster doubling time.
"In the event of increasing case rates, earlier intervention would reduce the need for more stringent, disruptive, and longer-lasting measures.
"SAGE advises that policy work on the potential reintroduction of measures should be undertaken now so that it can be ready for rapid deployment if required, stressing the importance of reintroducing measures in combination, supported by clear communication; consistent implementation that avoids creating barriers to adherence; and clear triggers for deployment."
It adds: "There should be no complacency around the risk posed by further viral evolution.
"Emergence of a variant of Delta or a variant from a different lineage that becomes dominant globally is a very real possibility.
"Ensuring sufficient capacity to monitor for variants, and capability to characterize new variants and conduct predictive vaccinology, is crucial."
It comes was the UK's crucial coronavirus R rate has risen to 1.0-1.2, and new data from the Office for National Statistics shows around one in 55 people have the virus currently, the equivalent of about 977,900 people.
It is up from 1 in 60 people in the previous week, the highest estimate prevalence since the week ending 23 January, shortly after England entered its third national lockdown.
This week the government has denied the existence of a so-called "Plan C" with more stringent restrictions in place, but the SAGE documents said: "Other measures beyond those proposed as part of Plan B are available to mitigate the need for further measures over winter."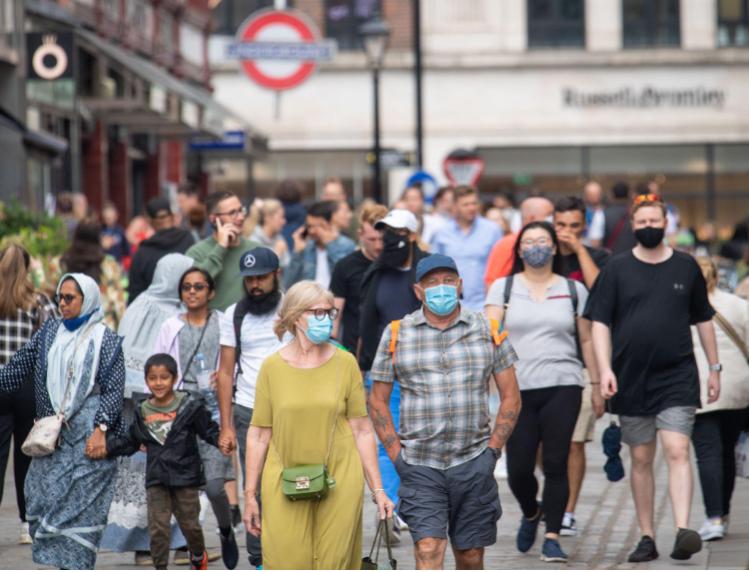 A report from the SPI-M-O sub-committee, also published today, said it was "possible" that "action beyond Plan B may be required to control growth".
It added "Sage have been asked to consider the potential effect of returning to the steps outlined in February 2021's Roadmap".
Another paper presented to SAGE last week, from Imperial College London, warned a pessimistic scenario could see almost 10,000 deaths over the winter, while any delay in the Covid-19 booster programme could result in "a much larger epidemic".
But one leading Covid scientist is calling on the government not to be pressured into reintroducing measures, suggesting cases will fall without the need to bring them back.
Robert Dingwall, professor of sociology at Nottingham Trent University, told PoliticsHome: "I think that if the government holds its nerve for another two or three weeks that the case numbers are more likely to go down than up, right. But we are not in the crisis that we were in last autumn because we've got a largely vaccinated population."
He added: "I think it's also, frankly, very difficult to see where you will get 100,000 cases a day from because what's driving the pandemic at the moment is the infection rates in teenagers.
"And if you look at the infection rates in teenagers they're heading towards the sorts of level of population immunity that is going to put a stopper on the spread of infection in that age group within a matter of weeks."